You've seen the little fish symbol on the back of cars indicating that the driver is a Christian.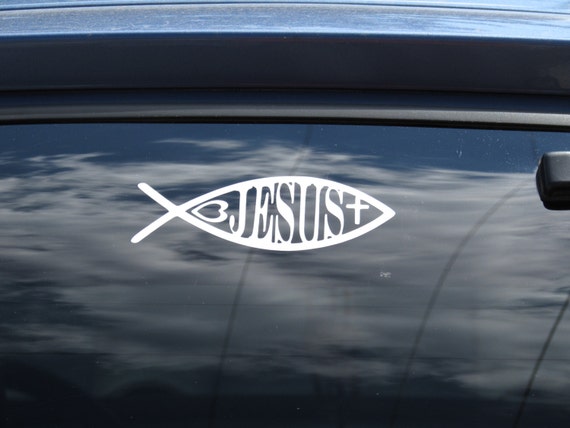 Or perhaps you've noticed people with a cross necklace around their necks or even a cross tattoo.  I salute these proud brothers and sisters who are not ashamed to be disciples of Christ.
However, Christ provides a clear declaration of how the world will know we are his followers:  we love each other.  In his words:  "By this everyone will know that you are my disciples, if you love one another." John 13:35
This simple statement made by Jesus is powerful in its implications.  If we are to love one another, we must have communion and community.  We must have fellowship.
You may claim that you can love someone without fellowship.  I disagree.  The act of loving "one another" implies fellowship.
Let's look at the Biblical characteristics of loving each other: 1 Corinthians 13
Here's the list of what love IS (with my comments in blue):
"kind and thoughtful"  

You must have fellowship with someone to be kind to them

"rejoices with the truth [when right and truth prevail]"
"bears all things [regardless of what comes]"
"believes all things [looking for the best in each one]"  

You must spend time with someone to look for the best in them

"hopes all things [remaining steadfast during difficult times]"
"endures all things [without weakening]"

 at the end of list

"endures with patience and serenity"

at the beginning of the list
And the list of what love is NOT:
"not jealous or envious"
"does not brag and is not proud or arrogant"
"not rude"
"not self-seeking"
"not provoked [nor overly sensitive and easily angered]"
"does not take into account a wrong endured"
"does not rejoice at injustice"
The entire list of what love is NOT, indicates some level of community and fellowship.  For example, you must be with someone if you are to be (or not be) rude.
Note that the "love is" list begins and ends with the trait of endurance.  The "love is not" list also has endurance with the "does not take into account a wrong endured".
One dictionary defines Endure: "suffer (something painful or difficult) patiently"
So let me use that definition and plug it into our verses above in this paraphrase:
When you love someone, you must patiently suffer painful or difficult things caused by them; and do so with patience and serenity — never blaming ("take into account the wrong") the other person.
Unfortunately, conflict in relationships destroy fellowship and community; and worse, they destroy our witness to the world around us.
In the following journal entries, I will look at Christian conflict and attempt to give Biblical answers to some of these questions:
What typically causes conflict – and how do we avoid those causes?
When conflict occurs and fellowship is broken, how do we fix it?
When is a break in fellowship best?  In other words, can we break fellowship and still love one another?
What is our responsibility when there is conflict with another believer?
1.js